Every Sunday, the guys of Puto Production party open air in Berlin. The duo puts on hot acoustic beats combined with modern electro-style drumming for their audience, celebrating their great love: music
Party in the Park with Puto Production – a True Berlin Experience
Granted: the city that never sleeps is New York. But you can also party all night and day in Berlin – if you want to. Especially Friedrichshain, Kreuzberg and Neukölln are the destinations for proper 'all-nighters'. However, if you are looking for a real open-air party in Berlin, make your way to the Mauerpark─because on Sundays, there is not only one of Berlin's largest flea markets going down in the park, but also a barely known open air concert par excellence: starting in the late afternoon, Puto Production spread fun and outstanding rhythms throughout the park and amongst its visitors. Loud, joyful beats─seemingly electronic, but actually created with drums and percussion. That's partying in the park to live and 100 per cent original dance music.
First Second-Hand Shopping, Then First-Class Partying
The Mauerpark's flea market has already made its way into nearly every Berlin travel guide and is also well-known amongst the often competing districts of Berlin, drawing huge crowds, particularly on a clear day. This has led to the establishment of many regular side-events around the flea market.
Probably most famous is the karaoke-show in the park's small amphitheatre. Here, locals and tourists from all over the world give their all and celebrate their talent with, especially on a sunny day, easily more than 300 spectators. And each time, the old gentleman with his little bag comes up and performs Frank Sinatra's 'My Way' in German, receiving a standing ovation. He is an institution in the hustle and the bustle, and every Sunday he bathes in his 5 minutes of fame, as if it was for the first time. We love him just as much as the many beaus with their guitars, the break dancers, or the man with his water-spitting robots made of shopping carts. On Sundays, the Mauerpark is an admission-free funfair. And the guys of Puto Production are set cast members.
Hot Beats From South and Central America
Puto Production's core group are Miguel Alejandro Lagos Miranda (Chile) and Damian Blanco (Cuba). Both live in Kreuzberg and have been filling Berlin's streets and squares for over ten years with the sound of their unique mix of traditional rhythms and electronic beats. The duo has thrilled their audience at events such as Karneval der Kulturen, Fête de la Musique or Fusion Festival, to only name a few. And this experience shows: On a musical level, they seem to know each other inside out; a quick glance is enough and both change rhythms in perfect unison.
Party in Berlin Prenzlauer Berg – On a Sunday
Prenzlauer Berg is considered the family-friendly neighbourhood of Berlin. But luckily, residents do not seem to mind the 'background' noise. Nevertheless, you should not show up too late, because the Putos pack up around 19:00 out of consideration for the residents─and the police. But by then, they have already played for several hours with only brief breaks.
You can usually find their drum and percussion set-up very close to the park's entrance (Bernauer or rather Eberswalder Straße). You will most likely come across them on a clear day in good conditions. Should the forecast be rather bleak, check out Puto Production's website or Facebook page where you can find information on upcoming concerts. And the guys will also gladly answer your questions, should you have any.
---
Short data
Putos in Mauerpark:
Sunday (winter) from approx. 2 pm
Sunday (summer) from approx. 4 pm
Donations welcome
---
---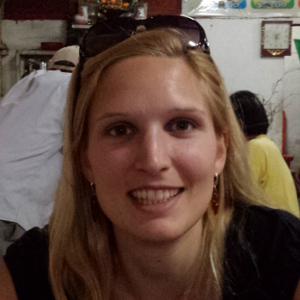 Verena Metzler ist begeisterte Wahlberlinerin und hat es sich zur Aufgabe gemacht, Neuberlinern und Touristen das Berlin zu zeigen, das sich abseits der ausgetretenen Touristenpfade verbirgt. Hauptberuflich arbeitet sie als freie Lektorin und Texterin.