Every weekend, on sunny days at least, the Preußenpark in Berlin Wilmersdorf turns into the Thai Park. Underneath colourful umbrellas, Thais offer the fruits of their culinary skills. Authentic Thai food in Berlin.
The Thai Park is a piece of Thailand in Berlin
Whenever I think of Thai food, I immediately remember the tiny little, mobile cookshops by the roadside with their simple but delicious dishes. That is, since I spent some time in Thailand two years ago. There was simply nothing better, if you wanted something quick and cheap to eat. These old ladies behind the hotplates were often the only calming influence in the throngs of people. There were no language barriers, I could simply point. And with my decision to keep hands off of meat for the rest of the stay after a long long night, my upset stomach was a thing of the past.
The so-called 'Thai Park' (= German: Thaiwiese) in Berlin Wilmersdorf brings back all those memories. Underneath an ocean of colourful umbrellas you dive into the world of Thai cuisine – in the midst of Preußenpark. Curries are boiling on camping stoves, mangos are being peeled next door, and under yet another umbrella tasty spring roles await hungry Europeans. For the … brave ones amongst you, there are even grilled insects, such as ants, beetles and grasshoppers (yummy …). But the drinks shouldn't be left unmentioned: Would you care for a lassi or do you prefer fresh coconut? You can even enjoy freshly mixed cocktails, though admittedly not very authentic.
Main courses cost between 2,50 € and 5,00 EUR, depending on whether you choose Pad Thai (fried noodles with veggies) or a Massaman curry with rice and tofu (or a choice of meat). Summer rolls are 1,00 € each, and the vegetarian sushi we tried was worth the 5,00 € we spent. The mango salad was offered at a price of 3,00 €.
The Thai Park is no official event but is tolerated by the authorities – under the condition that the park stays clean. Therefore, each umbrella is equipped with a big trash bag which should be used, as the park's trash cans are usually already overflowing by midday. And, if we are honest, everybody rather wants to avoid a true Asian experience with bulks of litter spread across the meadow.
The food is served in little plastic dishes, basically like the ones you know from ordering soups on the Christmas markets. With your food you find a comfy, nice place to sit down on the meadow (or German: 'Wiese') – hence 'Thaiwiese' – or search for a spot in the shadow of the trees and enjoy your authentic Thai food. Simple, relaxed and with flip-flops in Berlin's best Thai restaurant.
P.S. How did it start? Well, to be honest, I have no idea. One story I heard was that the Thai community of the district came together in this park on the weekends, simply to have a BBQ – or at least the Thai version of a BBQ. Other park visitors were attracted by the delicious smell and joined the community's BBQ in exchange for a small contribution. Sounds plausible, don't you agree?
---
Short data
Thai Park:
not on rainy days
Sa. + Su. 10 am – 8 pm
Prices approx. 3,00 – 6,00 €
---
---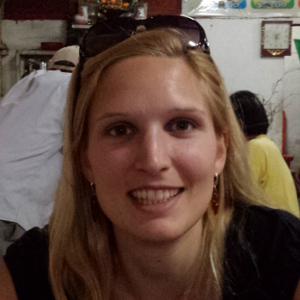 Verena Metzler truly fancies Berlin and wants to show tourists and inhabitants alike the hidden Berlin that is not covered in your tourist-guide. She works as a freelance copywriter and proofreader.